Description
Open Source Mask Fitter
A light and flexible, customizable frame that significantly improves your mask seal.
Adding the Badger Seal to a 3-ply disposable mask significantly reduces particle penetration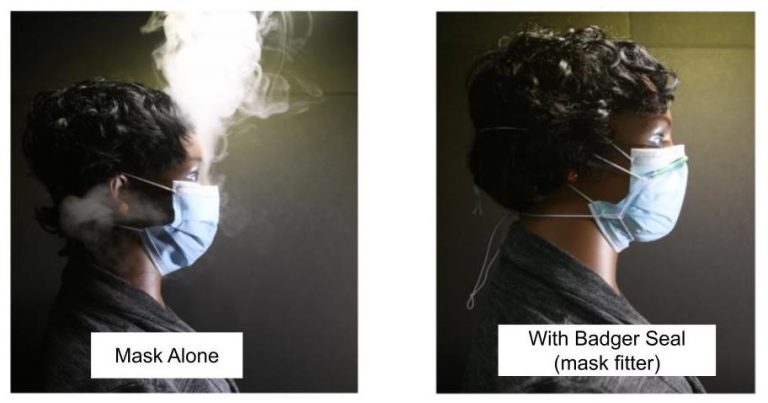 The Badger Seal is designed to be used over top of a 3-layer disposable mask, and has been shown to have great filtration performance . Significant improvements were also seen when the Badger Seal was worn with a 4-layer knit cotton cloth mask or an ASTM Level II mask.
Since the outer edges will be much more sealed than usual, you must ensure your mask is made of a sufficiently breathable material. Your initial evaluation should be done seated with minimal exertion, until you've verified adequate airflow through the fitted mask/Badger Seal combination.
Warning: While our fitter seems to improve the seal of a face mask, it has not been tested for effectiveness in preventing illness, and you should use it at your own risk. See legal disclaimer at the bottom of this page.
Regulatory Notice
This product has not been cleared for medical use by the U.S. Food and Drug Administration. The product should only be used during the declared COVID-19 public health emergency if FDA cleared or approved products are unavailable. This product has not been evaluated for the prevention of specific diseases or infections, the filtering of surgical smoke or plumes, the filtering of specific amounts of viruses or bacteria, or the killing or reduction of the amount of viruses, bacteria or fungi. Not recommended for use in a surgical setting where exposure to liquid, bodily or other hazardous fluids may be expected or for use in a clinical setting where infection risk level through inhalation exposure is high. Not recommended for use in the presence of a high intensity heat source or flammable gas. [This product is intended for one-time use by a single user.]
Liability Notice
By using this product, the end user assumes all risks associated with its use, including the voiding of manufacturers' warranties of devices with which the product is used, and agrees to hold harmless and waive any claims against the Board of Regents of the University of Wisconsin System, its o fficers, employees and agents, and other persons or companies which may have contributed to the design and specifications. EXCEPT WHERE SPECIFICALLY PROHIBITED BY LAW, NO WARRANTIES OF ANY KIND ARE OFFERED FOR THE PRODUCT DESIGN AND SPECIFICATIONS, INCLUDING WARRANTIES OF NON-INFRINGEMENT AND FITNESS FOR A PARTICULAR PURPOSE.
Manufactured in Madison, WI. Local Contactless pickup available at 56 Corry St Please call or email to set a time for pickup.
More information on the Badger Seal mask fitter at: Badger Seal Technical Details